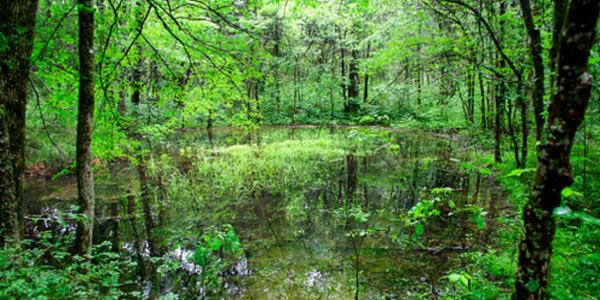 Welcome to Gladeville Utility District, serving southwestern Wilson County and portions of Rutherford and Davidson Counties. Gladeville Utility District is a non-profit public utility chartered specifically to serve and meet the needs of its customers for safe drinking water. We serve approximately 6000 water customers. Gladeville Utility District is run by a Board of Commissioners and a General Manager is in place to oversee day to day operations and to serve as an advisor to the board.
Water Conservation
Every Drop Counts! Did you know that the average American uses 100 gallons of water every day? However, we can all reduce that amount by about 30 gallons by taking a few simple steps, such as installing WaterSense labeled plumbing fixtures and using water efficiently in our yards. Gladeville Utility District is committed to protecting the future of our national and local water supply through water-efficient practices, products, and services. That is why we are partnering with the U.S. Environmental Protection Agency (EPA) to bring to you WaterSense, … [Read More...]
Current News
WARNING!
Updated August 5, 2016
WARNING: It has come to our attention that a bill payment web site called "doxo.com" may be giving the impression that they are in some way affiliated with the Gladeville Utility District. Please be advised that they are NOT in any way affiliated with the Gladeville Utility District. If you go to that web site and want to pay your water bill, it is our understanding that you will be required to provide your personal and credit or debit card information, then they will either pay your water bill and charge you a fee for paying it or they will direct you to our web site where you will pay your water bill as usual, but they will still charge you a fee for this transaction. In addition, it is our further understanding that payments made by going through the "doxo.com" web site may not be credited to your account for three or four days, rather than being credited the following day as it is if you pay your bill by going directly to the Gladeville Utility District's web site. Such a delay could result in late fees or even disconnection for nonpayment, depending on the timing of your payment. Please keep in mind that the Gladeville Utility District DOES NOT charge a fee for any payments made using a credit card or debit card, whether you make the payment in person, over the phone or directly through the Gladeville Utility District's website.
Online Bill Payment
We are pleased to offer the convenience of paying your utility bill online. To avoid late charges being applied, payments must be made before 12:00 AM on the 10th of each month, since online payments post 24 hours from the time of your online transaction.
If overpayments are made when you pay your bill online, including double payments, the overpayment amount will be credited to your account. In lieu of issuing refund checks.
Posted By: Admin